2022 marks an exciting and busy time for the Bowhill Engineering team. With strong team growth a priority, we have multiple exciting opportunities to join the Boweng Metal Fabrication Team
Bowhill Engineering's exciting scope of works, participation in major infrastructure projects and strong growth has created the need for additional Metal Fabricators on site in our Murraylands workshop.
Specialising in Heavy & Complex Structural Steel, our employees enjoy contributing to structures that matter, projects that give satisfaction and infrastructure that lasts.
Our Engineering Facilities include a Fabrication Workshop, Assembly Workshop, Electrical/Mechancial Workshop and purpose-built Surface Treatment Facility, this means we can fabricate, assemble, paint and finish our projects on site for our clients, saving time and money. Our Metal Fabricators are the heart of our business, we have an established team with a high work ethic.
In a competitive recruitment climate, Bowhill Engineering is known as the employer of choice in the Murraylands and is not afraid to shout out the benefits of joining the Bowhill Engineering team – why because we love where we work!
We offer some great opportunities to join our team with a full work schedule of exciting projects planned
– together we thrive!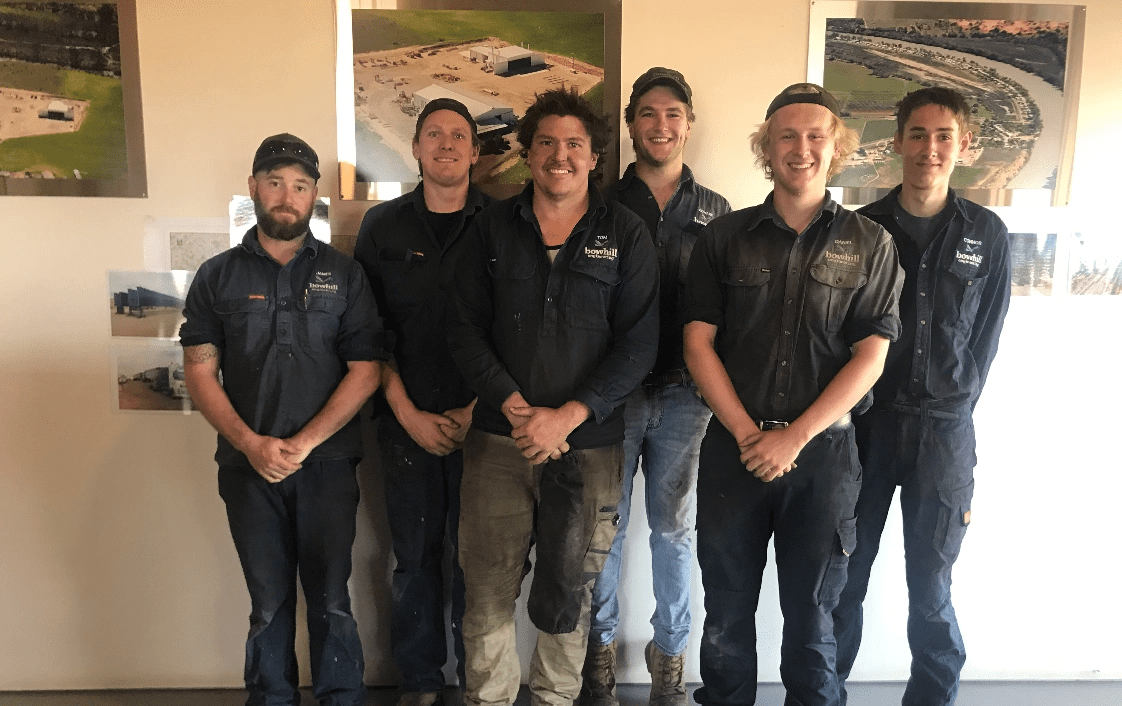 Why Choose Bowhill Engineering?
Bowhill Engineering continues to be proudly family-run and continues to provide the same commitment to its clients, who have expanded into industries including mining, water, defense, and commercial building, turning it from a local SA success story into an Australia-wide industry benchmark. The business now operates an impressive modern facility in Bowhill and has worked on some of Australia's most notable and complex projects – but still considers its services to the local community as its most important work.
We are committed to our teams' growth with team members averaging 5+ years of tenure. We have worked with over 40 apprentices & trainees who have completed their certificates and are now fully qualified.
– together we thrive!

Employee Assistance Programme
$100 employee health assistance annually +
EAP (Employee Assistance Program)– free confidential consultations for yourself and your family via Access Programs (Value $495)
Culturise – Being Well at Bowhill staff program – quarterly personal & team development-based program

Start & Relocation incentives
Relocation Incentive OR
Accommodation Assistance(up to 6 months, 3 brm house available, accommodation shared as required) Talk to us about your relocation requirements OR
Drive in/Drive Out New Employee Kick-start $1000 Fuel Bonus (=$100/fn) Tvl>100km radius
* conditions apply, as per personal requirements, subject to position applied for.

Reward & Recognition
An employer of choice in our local region, wages are competitive, and performance based
Permanency (6 month's probation);
Wage Reviews against industry benchmarks, and paid at above award rate, CPI & Bonus reviews 6 monthly
Honour Roll – Years of Service recognition
Wage Boost Incentives – $3k Recruitment incentives available to existing staff for recruitment of Metal Fabricators

Social
BEERS – Bowhill Engineering Employees Recreational Social Club, regular in house and external events, charity fundraising, Team lunch and Boweng brekky events
Celebration Hour – monthly, early finish, recognition event of all the "good stuff" team and & personal

Career and training opportunities
Career Advancement Opportunities– Workforce development plans
Individual Growth & Development Opportunities– Individual Training Plans, Individual goals, P&E training, company role appreciation
Leadership Growth – leadership development group, growing our next generation of leaders
Regular individual reviews for training & development opportunities

Workplace Facilities
4x workshop facilities, we are extremely lucky to have room to move and grow and provide a safe workplace, with great plant & equipment to work with.
Outdoor balcony dining area
Fully equipped Lunchroom with eight-ball tables
Open door – Leadership & Management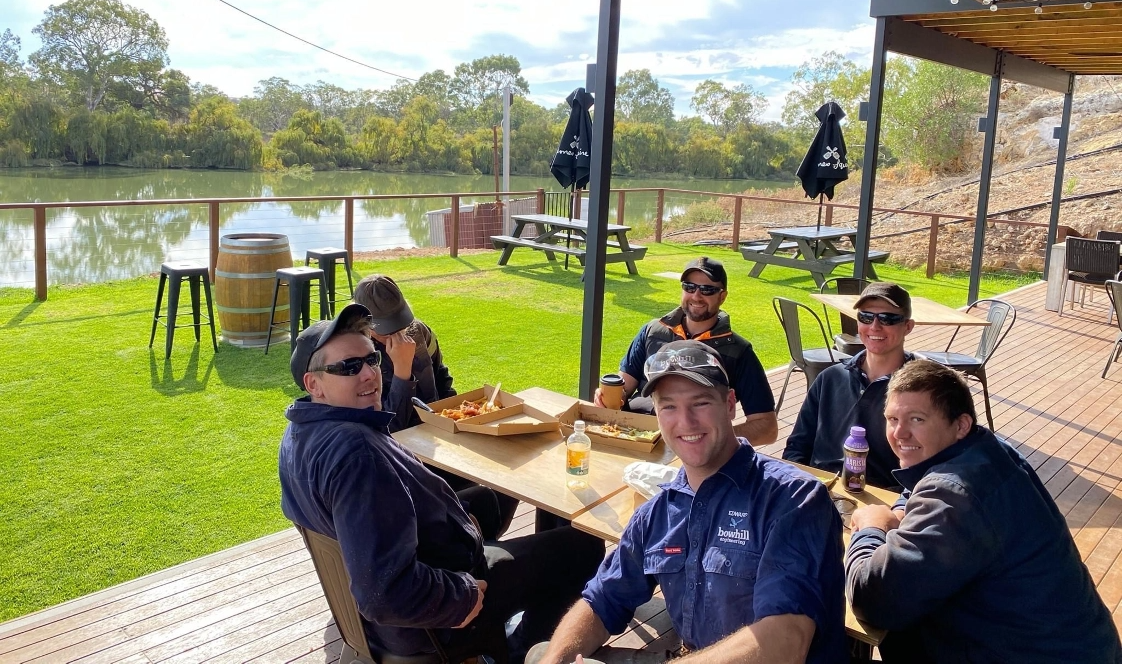 Who are we?
Well, to summarise, we are a bit of a "BCF" kind of crowd really, we are country people that love to get outdoors and be active, spend time with our families, participate in local sporting groups and generally have a good time. Boating, camping, fishing, 4WDing, cars, bikes, river recreation…. We love it!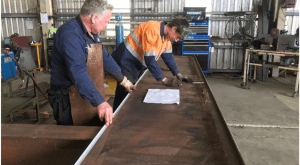 Is there no better feeling than enjoying where you work, working with mates and working together to achieve the big picture!? We are super proud of who we work for, the projects that we achieve and the team that we have! Our retention rate is over 5+ years, testament to the work that we put into our team in an ever-changing and competitive industry.