Project Description
Regency to Pym Bridge Girders & Temporary Steelwork
Client Name: McConnell Dowell
Year Completed: 2020
20x bridge girder sections – 1500 tonnes
Early design optimisation; helped set this project off in the right direction. The macro level trade considerations such as mill plate sheet size availability, cross section and girder length/weight limitations, weld joint design and the like were considered as early as the main contractor tender stage. Bowhill were happy to provide this early input with no obligation and extend this service to other contractors who would like macro level trade focused feedback on concept designs.
Design coordination meetings; held (mostly via video conf) at regular intervals with the whole engineering and construction team helped to avoid a lot of time consuming RFI 's and clarifications during the engineering drawings development and shop drawing/modelling stage.
Project Modelling; The collaborative nature of Bowhill's modelling process is building towards having just one coordinated shop drawing and engineering model rather than separate engineering and shop detailing processes. This we believe to be a huge opportunity to further progress towards true BIM practices and to build the coordinated process that captures many win-win outcomes for all stakeholders. It can't be understated the learning process that happens as a spinoff benefit out of these collaborative discussions. The learning transfer happens across the full spectrum of stakeholders it is not one way from learned to practical as you might expect, rather even senior engineering and construction staff can gain practical insights from trade focused collaborators and visa-versa.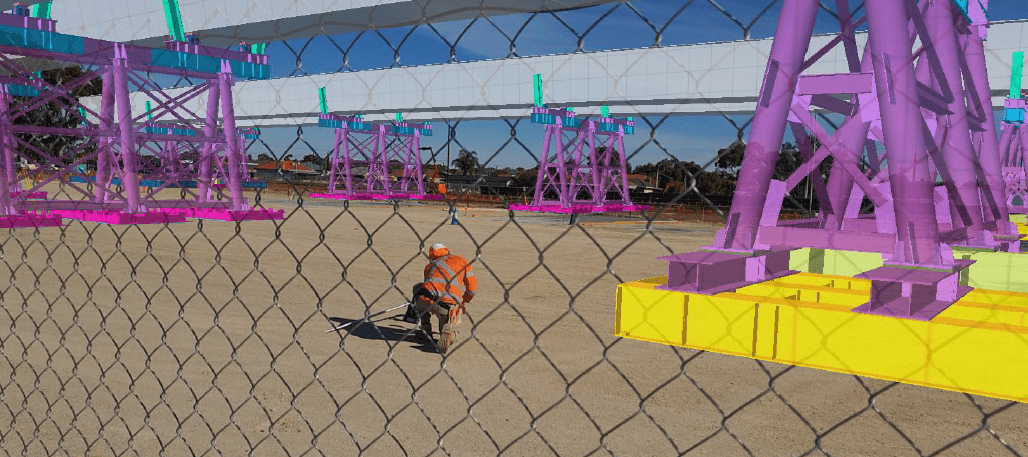 Temp Works; The use of temp works on this project has been significant mainly due to the installation methodology where the majority of the bridge is pre-built, finished from insitu slab, road surface, barriers etc right up to light pole bases and then installed using an SPMT (similar to the Darlington road bridges a few years ago). In this instance, the prebuild happens some 500m from the permanent location and occurs as 2 x 1300t 84m long x 15m wide sections of bridge supported at permanent height of around 6m to underside of girders. This is a significant undertaking and with the innovative reuse of 200t of previously used steel that Bowhill have secured from previous works (+100t of new steel), we have been able to do this portion of work at significantly lower cost than new steel only.