Project Description
BAJV (Baulderstone Abby Group Joint Venture) | 2013
Project overview
We'd been given a tight budget to achieve big results, so this project was all about innovation. We found ways to reduce costs while maintaining our standards — from the material purchasing phase to the subarc welding process and transportation. The result was a project that exceeded expectations, delivered on time and on budget.
Technical challenges
32.5 m long members are not easy to transport to any site. To minimise traffic disruption and maximise efficiency, the decision was made to move all eight members (total of nearly 80 t) to the site in one movement.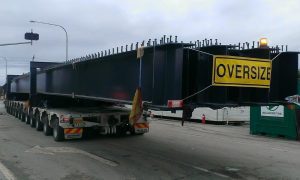 Our approach
To do this, we designed a purpose-built transport and storage cradle, which allowed the specific truck trailer combination enough room to reverse under the load, raise the trailer deck, and remove the legs once secured on the trailer — then do the same in reverse when unloading.
Before execution, detailed engineering calculations and shop drawings were completed to ensure safety and minimal damage to the coating system in the whole of project handling, zero double-handling, and maximum cure times.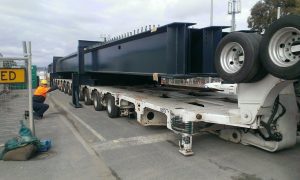 Our client's result
BAJV was able to directly unload and install the beams at their convenience, without the need to double-handle the heavy yet fragile items. Our innovative approach had proved to be a safe and efficient methodology — both for the site and for the wider public — by reducing the number of oversized loads on our roads. Plus, there was a bonus of not having the normal and often difficult coordination of site staff and expensive lifting equipment for unloading the items on arrival.